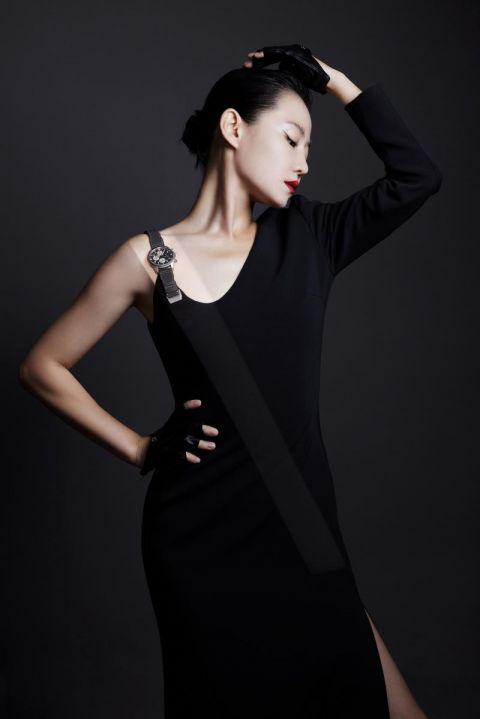 近日,女星谭卓出席某品牌发布会,一身黑裙引得不少人大赞品味好。从《我不是药神》的神演技之后,谭卓的时尚品味也是一路看涨。
Recently, actress Tan Zhuo attended a brand conference, a black dress attracted many people praise, good taste. From "I'm not the God of medicine" after the divine acting, Tan Zhuo's fashion taste is also all the way up.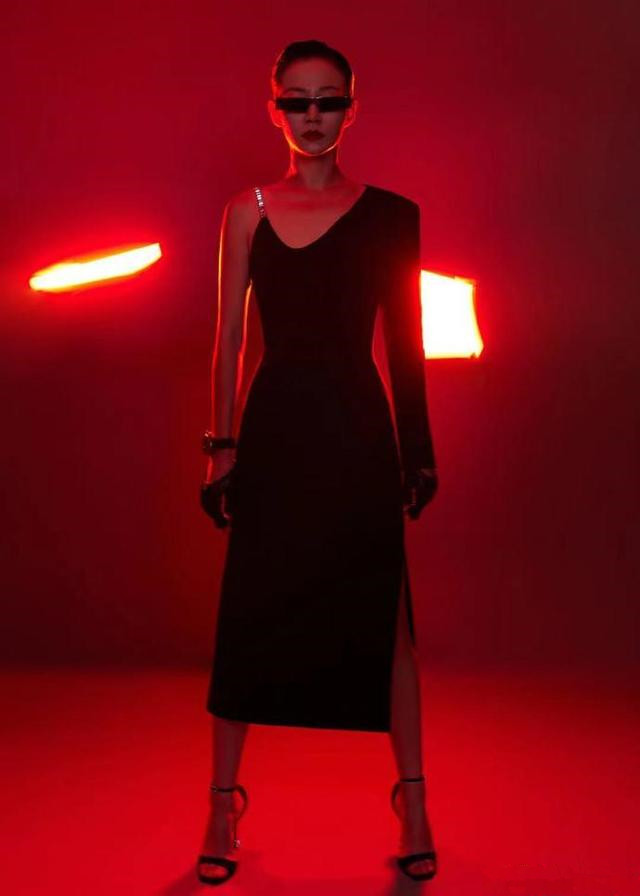 昔日时尚黑洞
Black hole of old fashion

当天,谭卓身穿来自David Koma2021年春夏款单肩黑色牛仔裙,红唇冶艳,戴上墨镜颇有种近未来的赛博朋克感。生图也是状态颇佳,不少吃瓜群众表示这样很飒很美。
On the same day, Tan Zhuo was wearing a one shoulder black denim skirt from David KOMA in spring and summer 2021, with red lips and sunglasses, which made him feel cyberpunk in the near future. Shengtu is also in good condition. Many people who eat melons say it's very beautiful.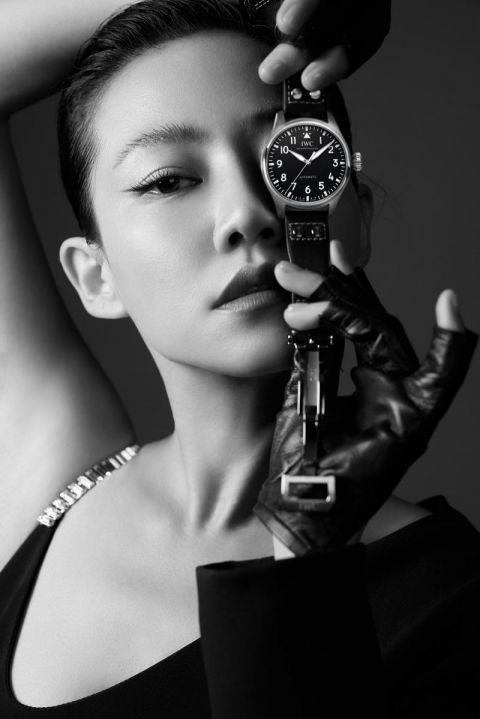 虽然如今谭卓时尚品味屡屡受到称赞,但其实早年间,她的一些穿搭也不忍直视,踩过不少雷。早年的她,偏好清纯风格。顶着大刘海,宣传语都是清纯女星。
Although Tan Zhuo's fashion taste has been praised many times, in fact, in her early years, she couldn't bear to look directly at some of her clothes and stepped on a lot of thunder. In her early years, she preferred pure style. With a big bang, the slogan is pure actress.

安谭卓本身就不适合清纯风,她的五官并不是特别优越,长相略显寡淡,虽然是80后,但谭卓的五官脸型都比较成熟,脸型也比较短。
Although she is born in 1980s, her facial features are mature and short.

刘海遮盖住额头一显得脸短又宽,二显得很没有辨识度。前一段时间的刘海造型就遭到不少人的吐槽。
Bangs cover the forehead, one appears short and wide face, two appears very no recognition. The bangs make complaints about many times before.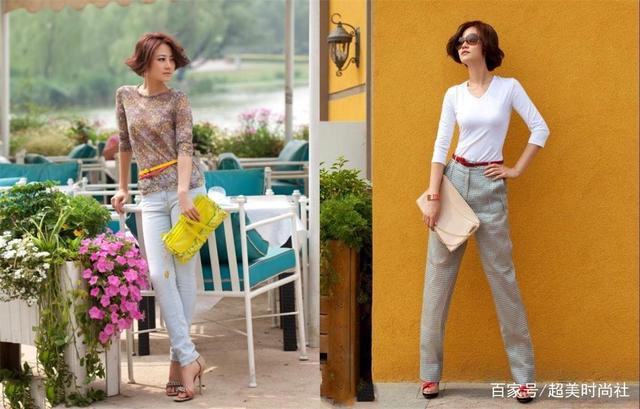 她还曾有过这种蘑菇头的造型。比如早年走戛纳红毯时,顶着的就是这样的刘海遮头,显得非常沉重土气的发型,完全让人认不出这是谭卓。
She also had the shape of a mushroom head. For example, when I walked on the red carpet in Cannes in my early years, I was wearing such bangs to cover my head. I looked very heavy and rustic. I couldn't recognize that it was Tan Zhuo.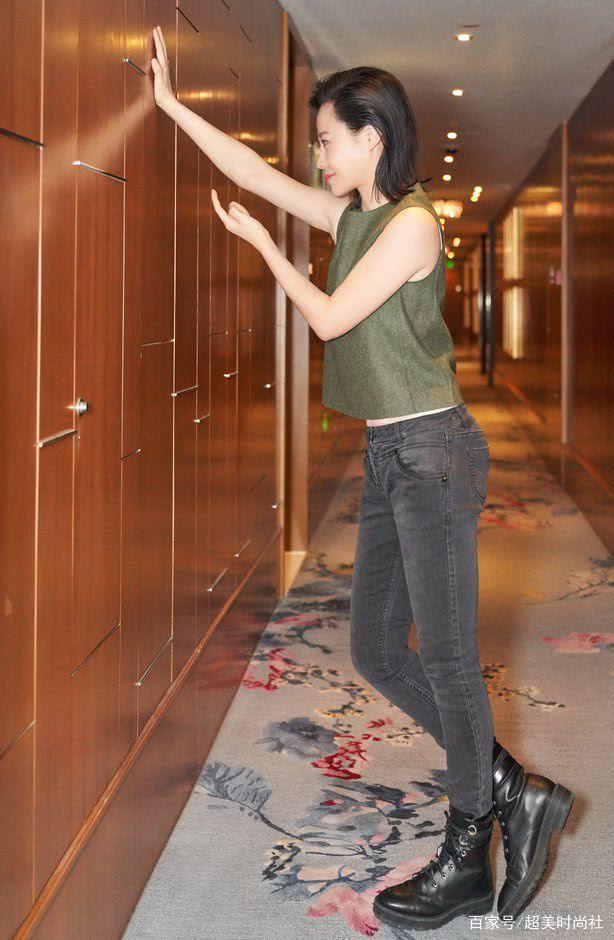 除了刘海,黄色发色或者深栗色也很不适合谭卓的长相,明显更加加重了年龄感,很显老气。
In addition to bangs, yellow hair color or dark chestnut is also not suitable for Tan Zhuo's appearance, which obviously aggravates his sense of age and makes him very old-fashioned.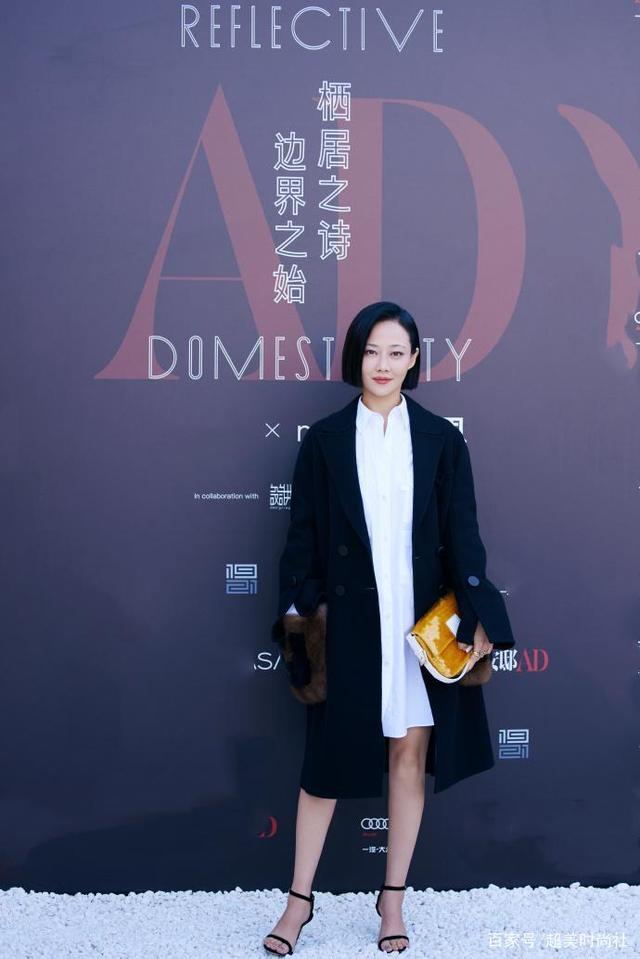 在穿搭上,她也曾频频踩雷。虽然拥有165的身高,但身材比例并不是特别完美,也没有大长腿、九头身。相反,她的身材比较扁平,比例也不是太好。
She has also stepped on thunder frequently. Although the height of 165, but the proportion of the body is not particularly perfect, there are no long legs, nine head body. On the contrary, her figure is relatively flat, and the proportion is not very good.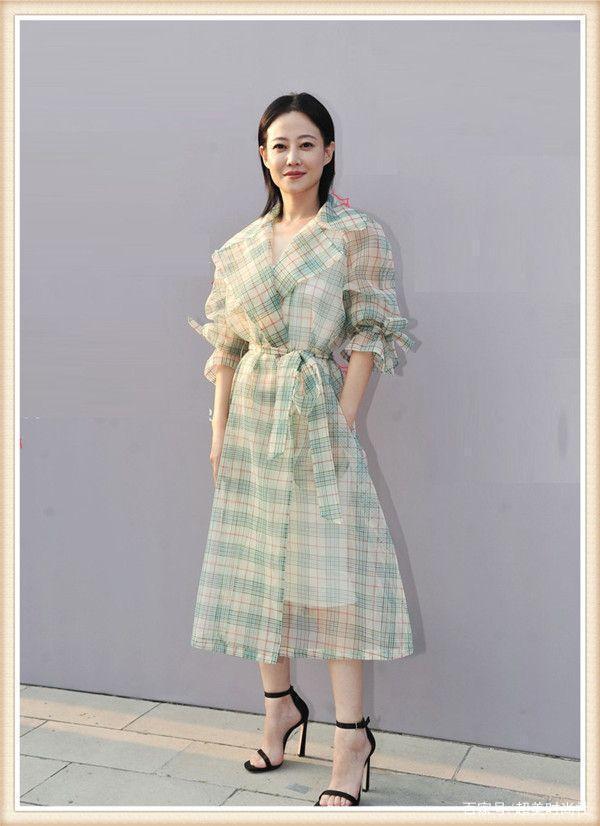 因此一旦穿着一些没有腰线、或者腰线并不明显的服装,就会彻底暴露她的身材缺陷,身材五五分明显削弱了她自身的成熟魅力。
Therefore, once she wears some clothes without waistline, or the waistline is not obvious, her body defects will be completely exposed, and her body size will obviously weaken her mature charm.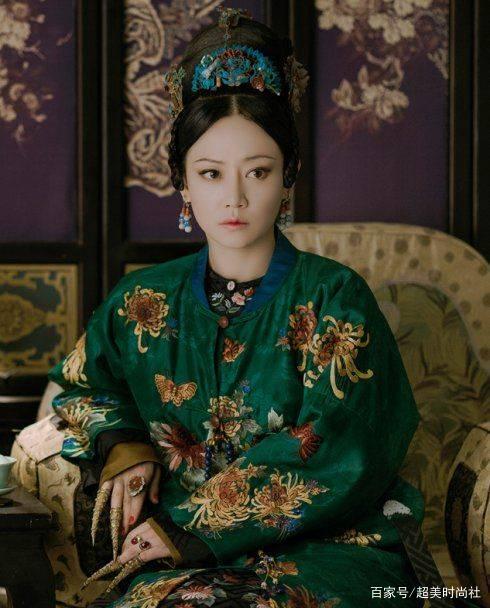 就像这套白色棉麻中裙,搭配一件长及小腿的厚重深色大衣,看得出来是想营造简单素雅的穿衣风格,但明显预判错了身材问题。这样遮盖住腰线,显得个子很矮,加上大衣一压,身材更是矮小了。
Just like this white cotton hemp skirt with a heavy dark overcoat with long legs, you can see that you want to create a simple and elegant style, but you are obviously wrong about your figure. This covers the waist line, appears to be very short, plus a coat pressure, the figure is even shorter.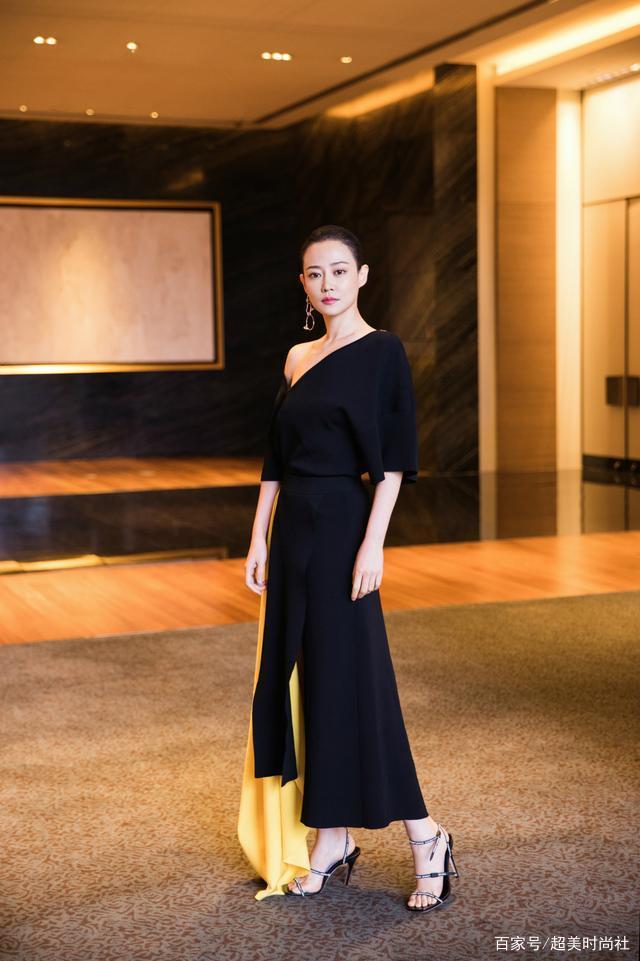 在衣服色彩的选择上,高饱和度的桃红色、橙黄色,也明显带不出她的气质与风格,反而有点俗气。
In the choice of clothing color, high saturation of pink, orange, also obviously does not bring her temperament and style, but a little vulgar.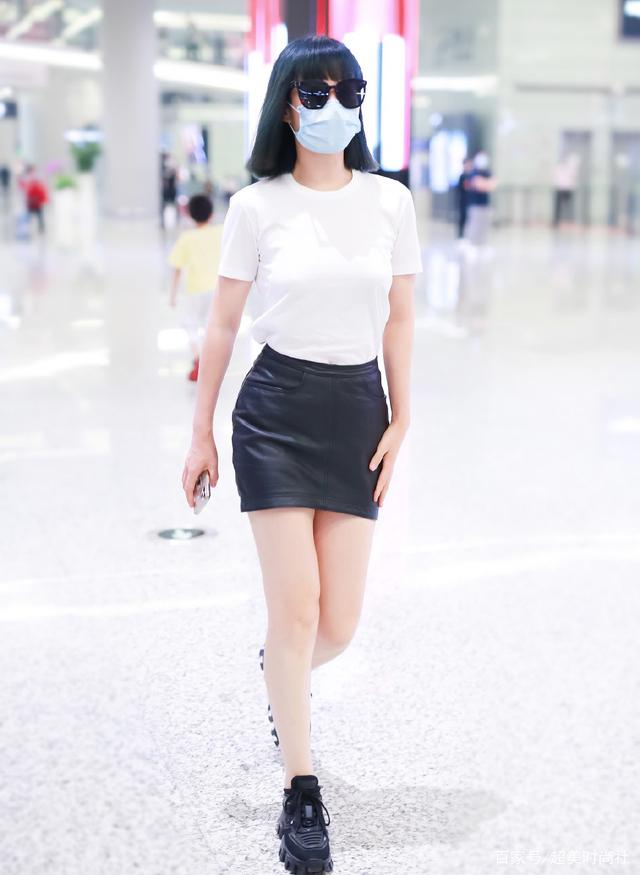 她也不太适合偏老气的花色服装或者淑女范十足的泡泡袖,像这套宽松款式的菱格纱质连衣裙,十足十像城乡结合部走出来的中年妇女,根本认不出谭卓的样子。
She is not suitable for old-fashioned clothes or lady style full bubble sleeves, such as this loose style of rhombic gauze dress, just like the middle-aged women coming out of the urban-rural fringe, who can't recognize Tan Zhuo at all.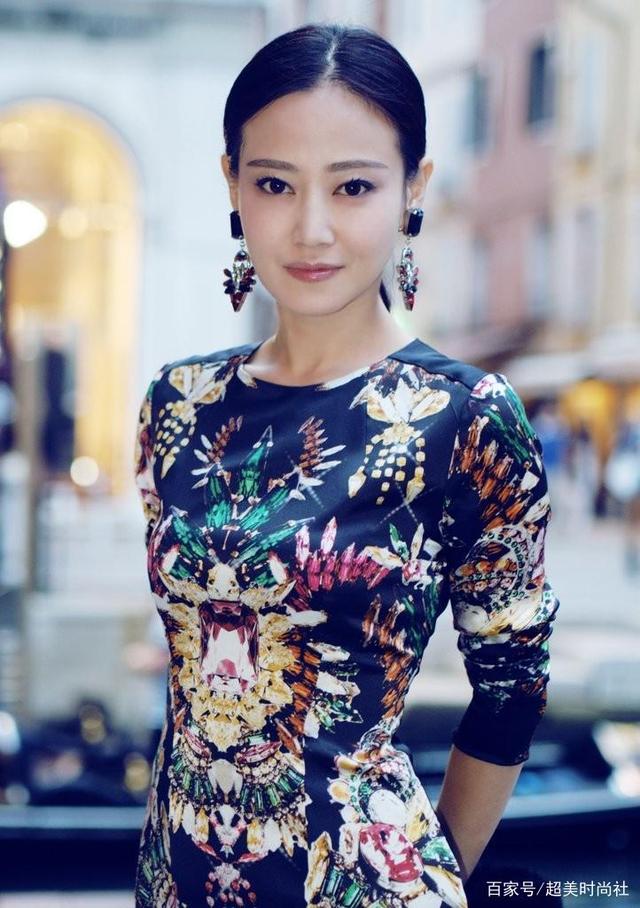 时尚品味越佳
The better the fashion taste

虽然是个80后,但谭卓是晚红的一代。虽然早年也有不少精彩演出,但比她小的一众85后花旦,早就红透了大江南北。
Although a post-80s generation, Tan Zhuo is a late red generation. Although there were many wonderful performances in her early years, her younger generation, the post-85 generation, has long been very popular.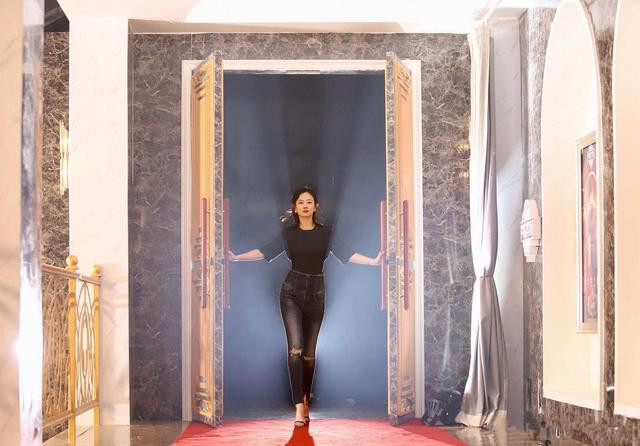 若不是电影《我不是药神》和《延禧攻略》让谭卓一炮而红,谭卓的时尚资源也不会一路走高。
If it wasn't for the movies "I'm not the God of medicine" and "strategy of Yanxi" that made Tan Zhuo popular, Tan Zhuo's fashion resources would not go up all the way.

丢弃了早年的清纯风和略显庸俗的暴露装扮,如今的谭卓走起了高级性感风,也终于找到了一条能够最大展现自己成熟魅力的时尚道路。
Abandoning the pure style of his early years and the slightly vulgar exposed dress, Tan Zhuo has now embarked on a high-grade sexy style, and finally found a fashion way to show his mature charm.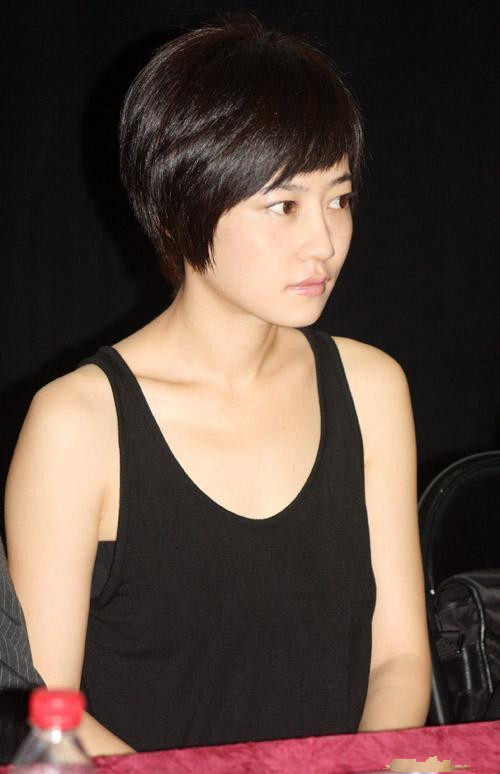 在发型的选择上,如今的齐肩蓬松卷发非常适合她,可变性非常强。可以是将头发扎起,露出圆滑发际线的大光明发型。
In the choice of hairstyle, today's shoulder length fluffy curls are very suitable for her, with strong variability. It can be a big bright hairstyle that ties up the hair to reveal the smooth hairline.

也可以是将头发平分梳至脑后,头发蓬松,略显凌乱,自带不羁与潇洒,显出整张脸,更显味道。以往的刘海头、大妈头也终于丢弃一边。
You can also comb your hair flat to the back of your head. Your hair is fluffy, slightly messy, uninhibited and natural, showing the whole face and the taste. In the past, Liu Haitou and Da Matou were finally abandoned.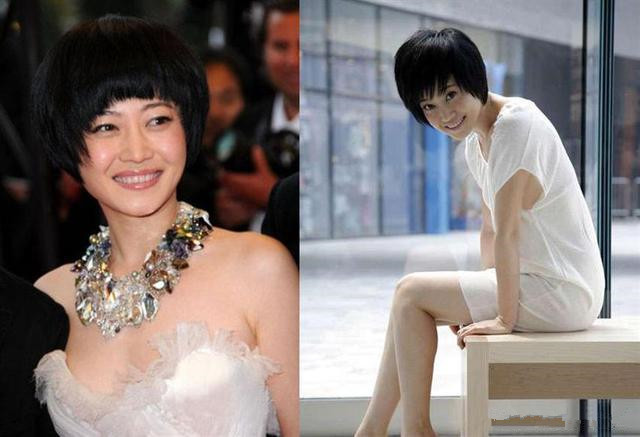 服装上,她也更加倾向于选择设计感更强的服装。虽然身材并不凹凸有致,但谭卓也充分展现了她的性感魅力。
Clothing, she is also more inclined to choose a stronger sense of design clothing. Although the figure is not concave and convex, but Tan Zhuo also fully shows her sexy charm.

比如一字领或者是抹胸式的款式,明显很受她的青睐。这种款式的服饰可以完美展现她的肩颈处的线条,充分展示她的直角肩优势。
For example, the one line collar or bra style is obviously popular with her. This style of dress can perfectly show her shoulder neck line, fully show her right angle shoulder advantage.

她本身的肩背就比较薄而宽,抹胸款更能秀出她的上半身线条。
Her own shoulder back is thin and wide, and the bra style can show her upper body lines.

此外,简单的T恤搭配牛仔裤的搭配,也是经典的穿搭。高腰牛仔裤突出腰线,设计简单的T恤突出利落感,展现出完美的腰臀曲线。
In addition, a simple T-shirt with jeans is also a classic wear. The high waisted jeans highlight the waistline, and the simple T-shirt highlights the neat feeling, showing the perfect waist hip curve.

皮质元素也是她的穿搭中常见的元素之一。挺阔有型的皮裙是她多次选择的单品,无论是超短款搭配白色T恤,营造青春少女感,
The leather element is also one of the common elements in her dress. The wide and stylish leather skirt is her single choice for many times, whether it's ultra short style with white T-shirt, creating a sense of youth,

还是来自大牌Fendi的这条中长皮裙,搭配条纹针织衫,潇洒而又强硬,一种元素完全可以穿搭出不同的风格。
This medium long leather skirt from the famous brand fendi, together with striped knitwear, is smart and tough. One element can be worn in different styles.

当然除了穿着,谭卓还有一样大杀器,那就是烈焰红唇。前面我们提到,谭卓五官很淡,如果化裸妆或者是仿素颜妆,很容易显得没有精神。
Of course, in addition to wearing, tanzhuo has another big killer, which is flaming red lips. As we mentioned earlier, Tan Zhuo's facial features are very light. If he wears nude makeup or imitates plain make-up, it's easy to appear listless.

一旦红唇画上,气场就来了,与裸妆形成了鲜明对比,整张脸也显得更有神。
Once the red lips are painted, the aura will come, which is in sharp contrast with naked makeup, and the whole face will be more vivid.

如此穿搭,也不怪得这几年她也频频获得大牌青睐,例如Fendi、雅思兰黛等品牌。想必今后她的时尚道路也会越走越好,一帆风顺。
It's not surprising that she has won the favor of big brands in recent years, such as Fendi, IELTS Lauder and so on. I think her fashion path will be better and better in the future.